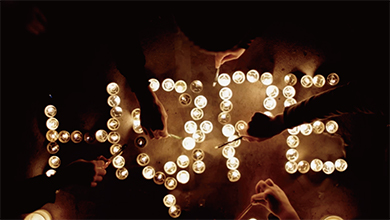 — First of all, take us back to when and how you got involved in the "Itoshiki "Project, from which everything started
Shimada: I've been hanging around with RADWIMPS for sixteen years or so.
And when the earthquake happened on March 11th, 2011, I was working with the band for their "Zettai Enmei" tour. I still remember that I was in Osaka on business just two days after that day. It was a warm spring day and I saw kids running around in the park and people reading a book on a bench. It was so peaceful and serene that I found it almost surreal because in Fukushima there was a first hydrogen explosion at the nuclear power plant at that time. And that got me thinking if there was anything that I could convey to the public as a filmmaker. That was exactly when I got a call on a bullet train back home. It was from Yojiro and he wanted to get people's messages to those who were affected by all these disaster. So, I offered to create a video asking people to send messages for the disaster victims.
And, after I arrived in Tokyo, I quickly called up my team and began to work on it. At that time we had to save electricity as much as possible because of the nuclear accident, so we kept the lights shut off and worked in the candlelight using the battery-powered digital camera to shoot frame by frame. The opening imagery of "Itoshiki" was a product of such creative process.

— Did the fact that you got involved in the participation of "Itoshiki" sort of automatically put you on the course of creating videos for their music year after year?
Shimada: Well, it did not. I think Yojiro was doing a lot of thinking what he and the band should do, because Yojiro contacted the band members on March 10th, 2012, just one day before March 11th, for the recording of the song "Hakujitsu." It came completely out of the blue.
— And he also contacted you on the same day?
Shimada: That is correct. He said, "we are going to upload this on YouTube tomorrow." So, the video became available online as soon as the shooting was finished. In fact, when I began shooting, the song was not finished yet, so I started shooting using the rough draft instead. And I even finished the shooting of the dawn on March 11th, and that was when I got my hands on the final version of the song. I'd been making a lot of music videos, but for this project, I wanted it to be more a documentary than a music video. I also wanted it to be as positive as it could possibly be. And for that I believe I was on the same page with Yojiro.
— Can you elaborate on why you wanted it to be as positive as it could possibly be?
Shimada: I myself experienced a terrible earthquake that hit the city of Kobe in 1995 when I was a college student. And I remember that the immediate need was of course for food and water, but over time we felt a strong need for entertainment as well.
— The heart will eventually wish to have music and film, you say?
Shimada: Yes. That is why I thought the objective of this project was to make our viewers positive rather than tell what was going on in the affected areas. Of course, there were some comments online like "now's not the time for this," but I firmly believed that music or film was exactly what people would definitely desire eventually.
— Getting drama out of a film must be a challenging feat.
Shimada: It certainly is and isn't getting any better no matter how much I try. The topic itself is very sensitive, and it is just so easy to make it dramatic especially if we develop and put our ideas into it as we do for other music videos. Maybe that's why I am kind of obsessive about shooting on March 11th and using those images in the video every time I create it. Of course, I had to do that for "Hakujitsu" because the song itself was written just the day before. But after that even when he gave me the song before March 11th, I just felt it wrong to not shoot on March 11th and somehow that turned out to be the way I do every time thereafter.