RADWIMPS
Yojiro Noda (Vo&G)
Akira Kuwahara (G)
Yusuke Takeda (Bass)
Satoshi Yamaguchi (Dr)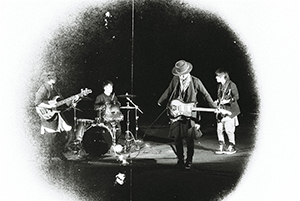 The lyrics have full of their unique worldview, which is said to be "new invention". The sound is not only technical but also full of popularity, and it's freewheeling beyond the framework of the genre. They were only 20 years old when they debuted, and they are four-piece rock band who have received overwhelming support from the people in the front line of music scene.
Each album has reached hundreds of thousands of CD album sales, and they are one of the popular bands whose concert tickets are difficult to obtain in Japan.
RADWIMPS is a Japanese rock band formed in 2001, and released 1st Indies Album "RADWIMPS" on July 2003. Major Debuted on November 2005 with CD single "Nijugoko-me no Senshokutai"
Released 2 CD singles in 2013, and they performed their 1st outdoor concert in the summer of the same year, drew audiences totaling 20,000 people. On December 2013, they released long-awaited 7th album"Batsu To Maru To Tsumi To"
Their largest concert tour including four overseas performances will start from February 2014.