RADWIMPS
Yojiro Noda (Vo&G)
Akira Kuwahara (G)
Yusuke Takeda (Bass)
Satoshi Yamaguchi (Dr)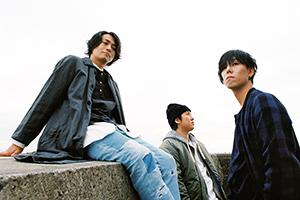 RADWIMPS is a Japanese band formed in 2001 and made their major label debut in 2005.
The songs are free from category. Not only rock but also jazz, hip hop, ethnic music weaved into their music. Songs has wide variety with philosophical and sometimes romantic lyrics.
Even though they didn't appear on the media much, it spread with their exciting live performance and by word of mouth. Their singles "Order made" and "DADA" which was released in 2008 and 2011 reached top on Japanese weekly chart and they gained a great popularity.
2015 was their 10th anniversary and also was the year to forefeel the band's next phase. Yojiro Noda (Vocal and guitar) himself published his first essay and became best seller. Also he played the leading role of Japanese film and won two major awards in Japan.
As a band, they've had their very first tour in Europe (France, Germany, and United Kingdom) and second tour in Asia (Korea and Taiwan) in the autumn of 2015. At the same time Satoshi Yamaguchi (drums) went on hiatus due to his chronic disease. After coming back to Japan, they had tour with the artists which they respect. This was also the first time to have tour with other artists. At the end of the year, they had live in Makuhari Messe with more than 30 thousand fans. These performances were recorded and ran on the theater as documentary movie called "RADWIMPSNOHESONOO"
In 2016, RADWIMPS made all the music of animation movie 'your name'. Not only the kind of rock band songs, but they also made and played various kinds of songs along with the story. The movie is a big hit in Japan and it will be on the screen of 85 different countries and region around the world.